News and Innovations
The latest news about our services and informative blogs on various topics are here!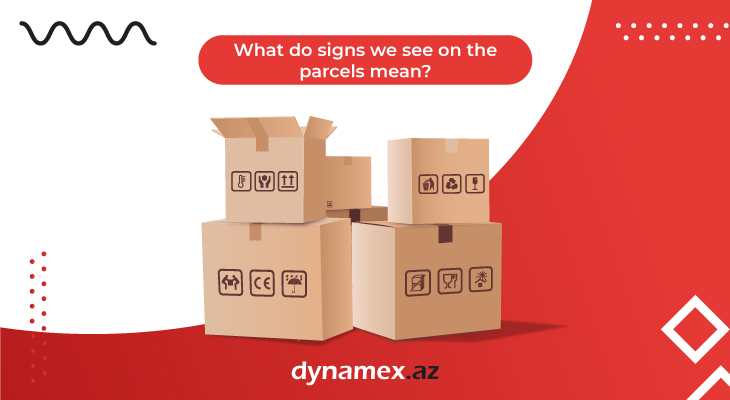 What do the signs on the parcels mean?
07.08.2020
Since childhood, we see a number of signs on packages or boxes that we do not understand. Although we understood some of the symbols as far as our minds were concerned, others remained obscure to us. The important question is, what do these signs, which we do not pay attention to, mean in general? Maybe we damaged any of our products by ignoring those signs?
If you want to find answers to these questions, this blog is written for you. So let's start!
Fragile
It is not necessary to have a bottle inside the box as shown in the picture. Indicates that the package contains a sensitive / perishable product.
Keep Dry
As can be seen from the umbrella, it is a sign that the package should be protected from water. It is also not desirable to store in a humid place.
This way up
Two vertical arrows on a horizontal line indicate the method of transporting and stopping the package. There are products that can be damaged or spoiled if left untreated.
Handle carefully
This is a sign that the package must be handled carefully.
2 Person Lift

Indicates that the package is heavy and should be carried by 2 people.
Multiple Boxes in Prohibition Sign

It is a sign that stacking is prohibited.
Thermometer
Basically, when the thermometer sign is reflected on the package, the degree limits are also marked below. It is not advisable to keep the package below or above the recommended temperature.
Food Package
It is an indication that there is food in the package.
Kitemark
Your heart can be at peace when you see this symbol. However, the packages tested by the British Standards Institution are marked with this, and the institute has introduced itself to the world in a positive way.
CE Mark
It is one of the symbols on the packaging that meets the safety, health and environmental standards of the European Union.
Recycling
This sign indicates that the material used in the package is suitable for recycling. If possible, throw those parcels in recycling bins near your home so that we can have a positive impact on the environment!
Tidyman
The symbols, which are part of the "Keep Britain Clean" public relations campaign, represent a cleaner world. One of the important factors in our country is to pay attention to this sign and keep our homeland clean.
Box Beneath Sunshine
Just as there are flowers that do not like the sun, there are also packages that do not like the sun. If he doesn't like it, he doesn't like it too much.
---
Although it sounds like an elementary school teacher's sentence, I use it because it fits. We are already familiar with the symbols and we know what they mean. No, I don't want you to read it again and consolidate your knowledge. We recommend that you take the necessary precautions and be more careful if you have any of these signs on your package.